Overview
Teach your students how to grow a lawn of microbes on an agar plate using the safe, visually stimulating microbe, Halobacterium sp. NRC-1, and step-by-step instructions. Halobacterium is an earthly model of organisms that could be found on Mars. This kit is a great way to introduce your students to this novel model microbe and can be used as a precursor for the Extremely Easy DNA Extraction Kit (item# 154773). Developed by Priya and Shil DasSarma in collaboration with Carolina™ Biological Supply Company. Designed for 32 students. Contains perishable materials.
This item contains living or perishable material and ships via 2nd Day or Overnight delivery to arrive on a date you specify during Checkout. To ensure freshness during shipping, a Living Materials Fee may apply to orders containing these items.
Resources
Articles & News
Life Science
Product Support
Carolina's Biological Media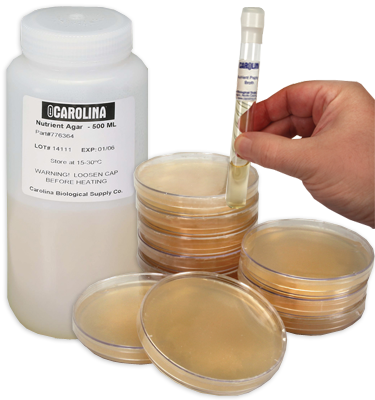 No Backorders Here—Get the Media You Need Now.
Select quality media products for the application you need.
Variety of options—bottles, plates, tubes, and dehydrated media
Fresh, sterility tested—in stock & ready to ship
Free of antibiotics, pesticides, and other chemicals
Vast selection of microbiology supplies and cultures available
Order now, ship later