Overview
Designed for use with Escherichia coli, Enterobacter aerogenes, and Pseudomonas aeruginosa species of bacteria. It is recommended that prepared media plates be ordered no more than 1 to 2 weeks before use, as media plates are highly perishable. Use them within 1 month of receipt for best results. Note: The species listed are not an inclusive list and are provided to assist novice users in selecting compatible media and bacteria.
This item contains living or perishable material and ships via 2nd Day or Overnight delivery to arrive on a date you specify during Checkout. To ensure freshness during shipping, a Living Materials Fee may apply to orders containing these items.
Product Families Featuring This Item:
Resources
Environmental, Earth and Space Science
Product Support
Carolina's Biological Media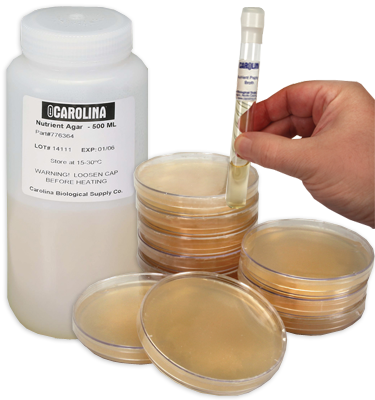 No Backorders Here—Get the Media You Need Now.
Select quality media products for the application you need.
Variety of options—bottles, plates, tubes, and dehydrated media
Fresh, sterility tested—in stock & ready to ship
Free of antibiotics, pesticides, and other chemicals
Vast selection of microbiology supplies and cultures available
Order now, ship later